Dark & Stormy Whale Wall
These unique, one of a kind driftwood whales are all sourced from Fairfield Beach, Fairfield, CT. 10% of all sales are donated to Save The Sound.
Where It All Began
This is the wall that started it all. Located on Fairfield Beach Rd. Neighbors, joggers, walkers, and cyclists wanted to know more about our whale wall. Born out of a Covid Project, The Dark & Stormy Drift Co. was created.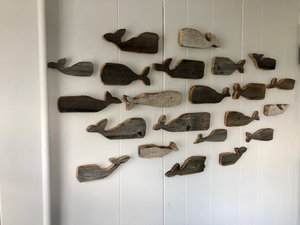 Whale Pods
We offer whale pods of little whales for any type of space! Nurseries, home offices, dining room, outdoor spaces, you name it!
Custom Whales
Whether it's your favorite vacation spot or wherever you call home, we can customize names on select whales for a small add-on charge.
Stop by our shop! (Appointment Only)
Since we do not have a store front, we ask that you make an appointment and times are limited. Please email or DM us to arrange a viewing. Thank you!